10 Practical Reasons Why Software Testing / QA is a Good Career Option
If you are fresher and thinking which career to choose? Software Development or Software Testing / QA? Why Software Testing / QA is a good career option? Does Testing have a future? Do Testers get decent Salary? Then let me explain to you with below 10 practical reasons why Software Testing / QA is a good career option.
I am an IT Engineer by qualification and a Software Test Engineer /QA by profession. Being into IT and Software Testing for more than 10 years, I have never regretted my decision to take Software Testing as my career. In fact, I feel  Software Testing is really a good career option.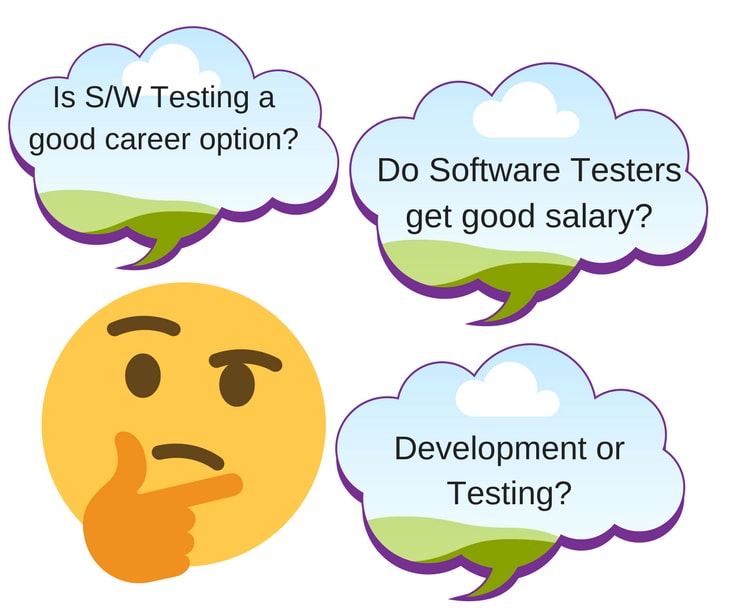 What is Software Testing /QA in a simple term:
Testing is verifying your product or service is as per the requirement and analyzing it from the point of view of the end customer.
10 Practical Reasons Why Software Testing / QA is a Good Career Option:
1. S/W Testing is in Demand:
In the era of digitization, be it Education, Banking or Healthcare everyone is going digital. Competition is growing for developing products and providing services online. As a result, many startups are coming up.
There are so many options available for any S/W product or any S/W services, BUT what matters is Quality. And when there is the talk of Quality, Testing / QA comes into the picture. So, S/W testing is very much in demand and if you know Automation, then you are the company's favor.
2. Testers get Good Pay:
Many people have a myth, that S/W Testers are paid less than Developers. But this is not true. As a beginner or fresher, be he is a Tester or Developer pay scale is the same. Then next depends on your appraisal where you need to prove yourself.
Companies give hike depending on your performance, where your designation doesn't matter. But your Domain knowledge, Certifications, etc.. surely matter.
When you switch the company as an experienced resource, your salary depends on your previous pay, the current situation of IT, for the role you are going and off coerce your skills.
3. Relatively easy to enter into IT through S/W Testing :
Most of the MNC's criteria for S/W Tester / QA are Academic Qualification should be: Any Science graduate BSc, MSc, BCA, MCA, or any stream of the engineering.
If you are from a non-science background, I still hope for you. some companies allow non-science graduates like CA, Doctors for specific domains like Banking, Healthcare. Then need someone specialized to verify the client requirements and application based on their knowledge.
4. Switch from Development to Testing is Easy :
If you are done enough with development Or feel coding is not exciting or not for you and want to switch to something different within IT, Testing is a good option to consider.
As you are into S/W development means you have knowledge of the S/W development life cycle. You know how to develop an Application means implicitly you also know how to verify it for its correctness.
Your coding skill is an added advantage or you can go for Whitebox Testing or you are Java Developer, learning Selenium and switch to Automation is much easier.
5. Testing tools are easy to learn :
If you have no IT experience and willing to enter, you can learn Test Automation Tools from external Testing Institutes. Tools are relatively easy to learn and once you get hands-on, you are ready to use it for any application.
There are many online courses as well, that teach you Testing Tools like UFT, Selenium which is in demand nowadays.
I have a friend who is a BSc graduate and was into the teaching field, learned basic testing concepts from the internet. Joined the reputed Testing Institute in Pune for Selenium where he not only learned the tool but got to work on live projects. With this knowledge, he could find a decent paying job.
6. Kind of 9 to 6 job :
I will not say it is always or completely 9 to 6 jobs, but yes comparative to the development you will have little less workload or pressure at least in the designing phase.
But again as I said not always because in case of agile testing you will always be in Deliver mode and in some cases you will have client calls for defect triage or requirement understanding.
From my personal experience, it is less hectic than Development. (My husband is a Java Developer J )
7. Good Onsite Opportunities :
In many projects, for e.g Banking where testers need to understand requirements thoroughly, need to work closely with Client at the onsite location.
Also if some data privacy issues you will get an opportunity to work at the client location.
Also in the case of UAT, many clients prefer to work with Testers closely.
So in and all you can have a fair amount of chances to work at onsite which most of Indians dream of
8. Can work as Freelancer :
Many people don't want to do a fixed 9 to 6 job but want to work as per their suitable time and location. In that case, you can work as a Freelancer.
Many startups or many companies prefer their work done by freelancers. Where they give an assignment,  you as a Test engineer can give estimates of time to get it done and they pay you hourly or depending upon no. of test cases you are going to execute.
There are many online sites like Freelancer.com, upwork.com, where you can get Testing projects to work on.
9. Relatively easy to come back after the career gap :
If you have worked in testing for some time and gained good experience, you will hardly forget the basics.
So if you need to take a break in a career for marriage, kids, or whatsoever reasons, you can easily brush up the things in quite less time and still crack the interview which is mostly theoretical.
Or though you are on break, you can read the latest happenings through Testing blogs, Forums and be aware of current trends.
10. Career Shift from Testing to BA is easy :
IF you have handsome experience in Testing / QA and feels need to upgrade your skills and profile. Or you are bored with the same job, Business Analyst can also be a very good choice for QAs to shift their career. BA is certainly a high paying job than Manual Tester.
If you are willing to change your path and have skills
Excellent Domain knowledge.
Good Communication Skills.
Expertise in MS Word and Excel
Business Analyst is indeed a good option.
Here is an article which will provide detailed 6 Important Steps to Shift Career from QA /Tester to Business Analyst:
P.S. These are my personal views/ opinions on why Software Testing / QA is a good career option, but you may have different opinions than mine. Please comment and share your views or experience with us.