Opencodez Team releases one more WordPress Theme Awakening based on fully Responsive Foundation Framework. The theme has very light foot print but supports strong features that any site can have. We are putting it at version 2.0.0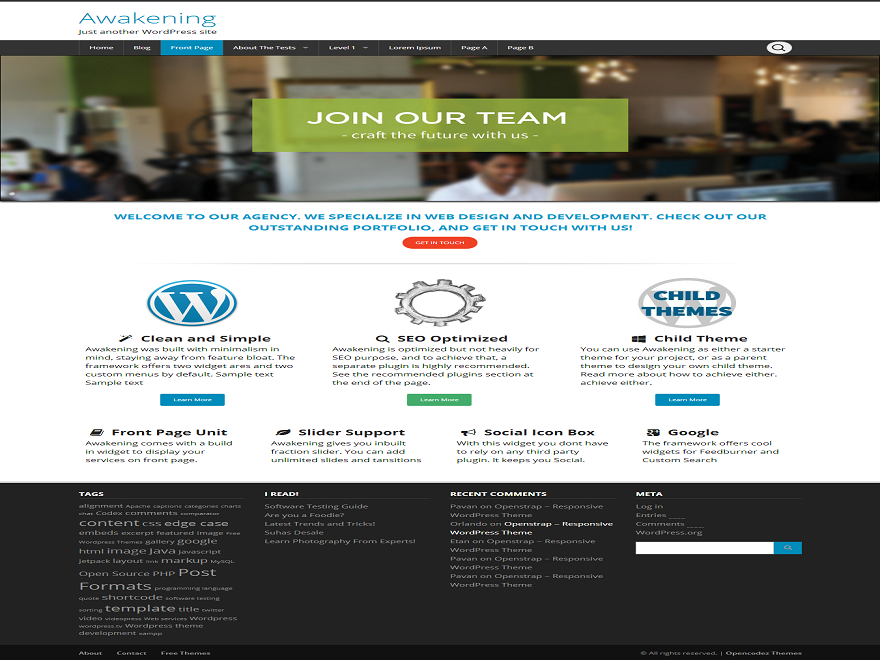 Awakening WordPress Theme Version 2.0.0
Awakening was designed to give bloggers and site owners to display and highlight their content. The theme has support for full width and boxed page layouts you can choose the fits your content well.
Additionally you can design your site in six different layouts with support of strategically placed sidebars and footer area. Theme supports two menus, one in top and other is footer menu so you can plan your sites navigation. It has strong and easy admin options panel to configure and control various things from copyright text to advertisement management. You can find below the features list of theme
Features
The new theme gives you more control on your website and you don't have to install any plugins to do few of your work. Few less plugins is worth considering.
Awakening Widget
The version of Awakening wordpress theme available on our site is completely restructured and new. We have upgraded to Foundation Framework 5 and added Fraction Slider
The older version of theme is also available on WordPress directory . We have submitted the upgraded version to WordPress directory and it will be available from there as well once its approved.
You can download and give this theme a try. We would really like to here back from you about the theme. If you encountered any issues while using the theme we are here to help. You can contact us using this
Customization
We are open to provide any support through theme customization or feature request. Please use below form to contact for same