6 Important Steps to Shift Career from QA /Tester to BA / Business Analyst
Why Business Analyst or BA is one of the best options to go for. What are the skills required for BA. responsibilities of BA and what are those 6 steps you should follow to become a successful Business Analyst.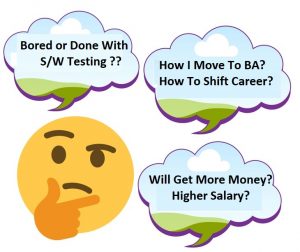 I have a friend who is having 5 years of experience in Manual Testing. Has very good knowledge of testing concepts and QA. He is working in the Banking domain since beginning in reputed MNC. But now saturated with writing Test Cases (TCs), Execution, and the same testing process.
He has reached to the peak point of Domain Knowledge and Testing that he is not finding it challenging it anymore (at least as per him). As he is not interested in people management, he didn't accept a Lead or Manager role. Now he feels need to upgrade his skills and profile. Not able to make the right decision.
This is happening with most of the testing folks nowadays. If you are into manual testing for more than 6 years, its high time to upgrade yourself. Many are going for Automation and ETL or Data Warehouse (DWH) testing.
Both are good options and in demand and have a scope.  But both the options have its pro and cons.
Automation Testing :
Pros:
Its much in demand so added advantage for manual testers.
Easy for a tester to switch into automation.
Cons:
Need to learn automation tools that mostly require programming knowledge.
Not all companies prefer automation.
ETL / DWH Testing:
Pros:
Easy to move if have knowledge of DB Concepts and Queries
Comparatively easy than Automation
Cons:
Need to learn ETL tools.
Only big companies go for ETL / Data Warehouse testing.
Reports testing might be challenging for many as we need a thorough knowledge of Data models and queries.
DWH testing might be quiet boring for some, as no User Interface is involved here.
Apart from the above options, BA can also be a very good choice for QAs to shift their careers. BA is certainly high paying and so-called High Profile job than Manual Tester.
Let's see what are the responsibilities of Business Analyst and Skills needed for that. And How QAs have the advantage to play that role.
 Responsibilities of Business Analyst :
Interact with Client to understand the business requirements
Analyze the requirements
Prepare a business requirement document.
Work closely with developments team to check the feasibility of requirements
Have a TCs review with the Testing team.
Give a demo to the client of application POC.
Work with Client for UAT.
 Skills required for BA :
Excellent Domain knowledge.
Good Communication Skills.
Expertise in MS Word and Excel
How to shift career successfully from QA to BA :
1. Improve your Communication skill:
Key to any role is communication, but for a Business analyst, it is one of the crucial factors.
Communication includes Written as well as Oral communication. So when stepping into BA's role, you need to work on your verbal and written communication skills.
Written Communication :
No grammatical mistakes.
Learn Mailing etiquettes.
Spell check contents properly
Oral Communication :
Develop an ability to explain the concepts in simple words.
You should be very clear about the requirement and no confusion.
2. Gain Domain knowledge:
Be the master in your domain or Product.
Focus on end to end business processes.
Get all your concepts cleared and have clarity of all the requirements.
3. Observe BAs and assist in the current project :
I will suggest, before making a direct move from QA to BA, first work with the Business analysts in your current project.
Help them in preparing BRD or any other documentation required. Ask questions.  Get all your doubts cleared.
Observer him/ her closely how they are working, the way they handle clients. The way they explain things. Ask them to invite you for any presentation or meeting they are going to attend.
Ask them to involve you in all client communication emails.
Tip :
Divide their workload, so they will be happier to help you. This will give you practical knowledge and provide rich experience as a BA.
4. Talk to your Project Manager :
Have a word with your PM regarding your aspirations. You can discuss it in your appraisal meetings. He is the one who can give you your first chance in your organization which is a big milestone.
If not in your current project, he might be aware of requirements in other projects. You can give the interview there and grab the opportunity.
Tips: 
If you are a critical Qa resource for your project, show his readiness to work 50% as BA and 50% QA.
Also, try to work on a project where there is a team of BAs. Avoid working as a solo BA on your first assignment.
5. Do Certification / MBA :
If you are not confident about domain/product, you can check internal certifications offered by companies. Most of the MNCs provide Learning Materials, Online or Classroom training for acquiring Domain knowledge.  At the end of the course/training, they will conduct the exam and offer certification. Please take advantage of that.
Else go for MBA (full time / part-time) and gain appropriate knowledge.  But again its a matter of choice.
Tip: You can check external certifications that are widely recognized.
6. Change the company to apply for BA :
If you don't get a chance in your current company, then hard luck! As you will have to struggle little more to prove yourself as a BA. But again if you have knowledge and skills, you can cross this hurdle easily.
Tips: 
Check BA opportunities through reference, so less competition will be there than walk-in.
You can settle down for a little less salary than industry standards to grab opportunity first time.
Conclusion :
First, decide if you want to shift career.
Work on your basic communication skills.
Take time to study your domain or product.
Put some extra efforts apart from your QA tasks to work with BAs.
And you are good to go!
I hope you find this article helpful. Please write to us in a comment if you have any other views/opinions/tips or stories to share.
All the Best!