What is Performance Testing? Understand its Types, Tools and Skills required and Career growth
Nowadays everyone is talking about Performance Testing and recently I have seen the rise in requirements for performance testers on recruiting sites. MNCs are specifically hiring Performance testers making Performance testing in demand.
In this article, we will see everything about Performance testing like what is Performance Testing?, Why its important, Types of Performance Testing Which parameters to verify, different tools used for it. Also, Career growth In Performance Testing and companies looking for Performance Testers.
In my opinion, if you are a fresher or experienced in manual testing and looking for job change, try to learn performance testing to increase your chances
In the software field, its long been a challenge to determine the performance aspect of any system. When it comes to finding out how the system behaves under certain workload and performance criteria, software performance testing is the only solution.
What is Software Performance Testing?
Performance testing is a non-functional software testing that focus on system performance under a particular load. Software performance testing measures according to some special standards. It's not just a simple testing in which we find bugs and error. This test expose faults, ensures the infrastructure and also identify load related defects.
Any testing is performed to achieve a high success rate, but with proper performance testing, we can achieve 3 main things: speed, scalability, and stability of system.
Speed: – It determines whether an application responds in time or not.
Scalability: – A scalable software gives good performance in any situation.
Stability: – Determines how consistent and stable the software is.
The primary goal of performance testing is to establish benchmark behavior of the system. There are many pre-defined benchmarks which must be met during performance testing.
Performance testing does not aim to find defects in the existing application and does not pass or fail the test. Rather, it creates the critical task of setting the benchmark and standard for an application. Performance testing must be done very accurately. Proper monitoring of the system performance is the main characteristic of performance testing.
Need for Software Performance Testing / why it is important?
Software performance testing measures according to some special standards. It is a way to find how your application work in real-world condition? As a tester or a quality analyst, you have to perform various types of test to measure the performance unit test, UI test and many more. Here are some reason that indicates why the software performance testing is essential.
When you do the load testing on your software it will check, how the application is performed when thousands of users visit your sites   simultaneously.
With testing, you can identify and solve the bugs.
It is also important to check your application on different KPIs like load time, response time, memory uses etc. Many times, a website crash because it wasn't completed the testing process.
Load Management check whether software or hardware needs any improvement before go live. If a company invest lots of money to develop any software, so it is necessary to check whether software fulfills all the condition or not. If we didn't do any testing before go-live then end users can find vulnerability.
Types of Software Performance Testing with examples?
To check how the system performs on a user's computer, there are different types of software performance tests available, through which we can easily identify the performance. This test will be performed during any software testing. This task is performed for three main purposes.
1) Check whether the application meets with the specified criteria or not.
2) Compare application with others to check which is better and what is the scope of improvement in the application.
3) Check the configuration of a software for different machines.
In other words, first we check, if a machine is developed to handle thousands of user at a time and then we test the software on different machines and versions to check the compatibility of a software.
In performance testing, we conduct different types of tests on a system. The type of test depends upon the performance, means which type of performance you want to check with a system. We include some major tests that are necessary for a system and which are important in terms of business aspect. These tests are included in different stages of software performance testing.
There are various types of software performance testing, let's talk about it in details.
Load Test: – Load testing is used to study the behavior of an application. It is performed to validate performance characteristics of a system when workload increases. The system monitors the response time when workload increases to find out whether workload is falling in the normal working condition or not. It is usually conducted initially during performance testing cycle.
Stress test: – It is usually performed to check the maximum limit of a software. In other words, it checks the software performance when the current load exceeds the threshold level. Usually, this test is performed when a system is running fine but need to expand for future growth.
Soak Testing: – It is also known as Endurance testing. The main goal to perform this task is to check some internal problem like a memory leak or memory utilization. It also calculates how software performed with the same workload for an extended time. It is generally conducted at last during the software performance lifecycle.
Spike Test: – It is also a type of stress testing. It calculates the software performance when workload is increased suddenly. This test checks whether a given application has capable to sustain the workload when workload increased quickly and rapidly.
Volume Test: – It is also known as flood test. It checks the efficiency of a software when it works with large number of data at a time. In this test, we flood the system with number of data that's why it also called flood test.
Resilience Test: – It checks whether the system is capable enough to set on the initial state when it is in a stressful state. This test is required when we test the performance of any software.
Failure Test: – It is performed to check the capability of software in terms of load.
Recovery test: – This test checks the application is capable to recover itself when the load is decreased to a normal level.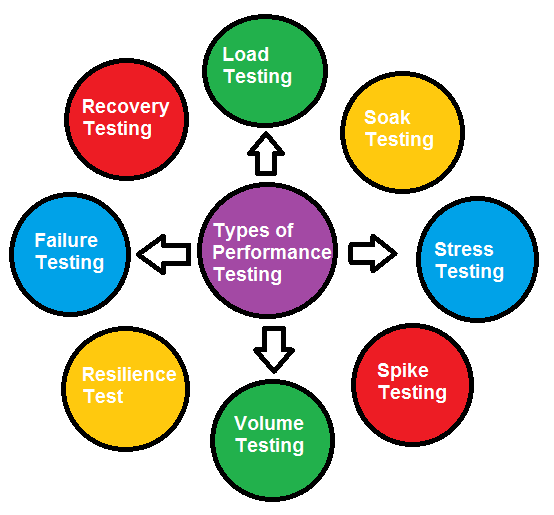 Process of Software Performance Testing:
Now it's time to perform the task. A software performance testing process can be done in many steps. Usually the process completes in 7 steps. This steps also called the performance testing process.
Analyze Testing Environment: – At first, do proper study and research on the testing goal and objective. Check the hardware, software and network configuration before the testing. Solve the environment related concern and check what types of tools are required during the testing lifecycle.
Identify performance acceptance criteria: – Identify the response time and throughput. Response time is a user concern and throughput is business concern. It is necessary to check the project success criteria.
Design performance tests: – Identify the performance test scenarios. Determine the variability for various users.
Configuring the test environment: – Make a list of each and every tool that is required for testing and prepare the necessary resources to execute each strategy.
Implement test design: – Create performance test as per your test design.
Execute the test: – Execute your test and monitor the performance of the software. Compare and validate the test data and results.
Analyze Results, Report and Reset: – Analyze the result and share test result.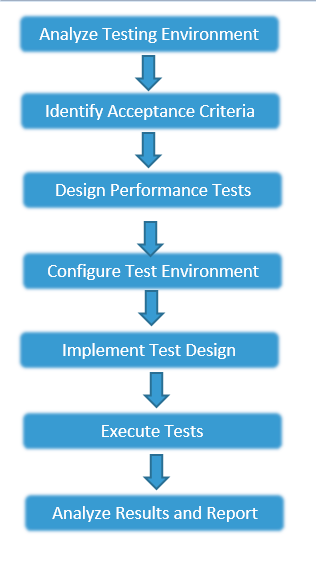 Some most common problems, when we perform testing:
During this testing, a quality analyst generally looks for the issues like speed issue, slow responses, high load time etc. but there is some other performance problem which may occur during the test.
Bottlenecking: – It occurs when data flow is interrupted because the capacity of software to handle the workload is slow down.
Poor scalability: – If a software can't handle the number of concurrent tasks, the chances of error will be increasing so the result generating process will slow down.
Configuration issue: – It may occur when the configuration of a software does not set to a sufficient level to handle the workload.
Hardware issue: – When you are using low-performance CPU that is not capable to handle the task.
Memory Leaks
Poor Network configuration
Operating system limitation.
Poor CPU uses.
Tools used for Software Performance Testing:
Now you know all the important information about software performance testing. To complete this task there are many tools which are available online. Here are some top performance testing tools, which gives the best result.
Basic Performance parameter: –
It is essential to know, on which parameter we check the performance of any software. Let's find out some of these.
Memory Use
Processor Use.
Committed memory.
CPU interrupts per second
Network output queue length.
Throughput
Rollback segment.
Thread count.
Garbage collection.
Hit ratio.
Response time
Load time.
Page Faults.
Disk time
Maximum active session
Career growth in Software Performance Testing:
As you know that software performance testing is a huge field. It is also a secure domain because from a long time without a testing any company can't launching any application in real world. But this field wants a lot of experience. You need to be good in terms of coding architecture, especially in tool's language. Any company which hires a software performance tester wants at least a good knowledge of scripting. Performance testing offers a wide variety of career path. You can work as a part of any company or became an instructor.
To to be a software performance tester so you need some technical skills as well that give you a good job with handsome salary.
Strong knowledge of any testing tools.
Strong knowledge of Automation tools.
Basic knowledge of database.
Knowledge of server-side command.
Apart from this good communication skills, analytical skills and management skills are also desired to make a difference.
Companies looking for Software Performance Testing
Nowadays many software companies looking for a good software performance tester because the world is becoming digital. Companies like Accenture, IBM, Barclays, Cognizant, Infosys are looking for performance testers for their clients from all domains. And they really pay good for them.
Conclusion
The success of any software depends on performance testing. System performance testing plays a key role in software testing life cycle. It enhances customer satisfaction and lower down the risk of failure. So it is important to carry out the performance testing before you go live to digital world. Nowadays so many companies require software tester and area of software performance testing is not only limited to game zone but all the mobile application, websites or software which is developed for thousands of user requires performance testing.
So we will suggest, go for performance testing and upgrade yourself in career.
If you have any queries, tips related to this, please feel free to share.