Easiest way to speedup your WordPress Website with CloudFlare for Free
Need for Speed, this could not be truer in the Age of the Internet. Every webmaster is trying to turn all the stones to serve his site faster and reap the riches. In this article, we will see how we can speed up our WordPress site with the help of Cloudflare Content Delivery Network for FREE!!
A content delivery network (CDN) refers to a geographically distributed group of servers which work together to provide fast delivery of Internet content. Read more on What is CDN and How it Works! Cloudflare CDN is the one that is gaining popularity among its peers. This popularity can be addressed to the infrastructure and reach across the globe. And most importantly they offer the FREE plan.
Create an Account
Creating an account with Cloudflare is easy. Just click on signup link and provide your email address and set a password.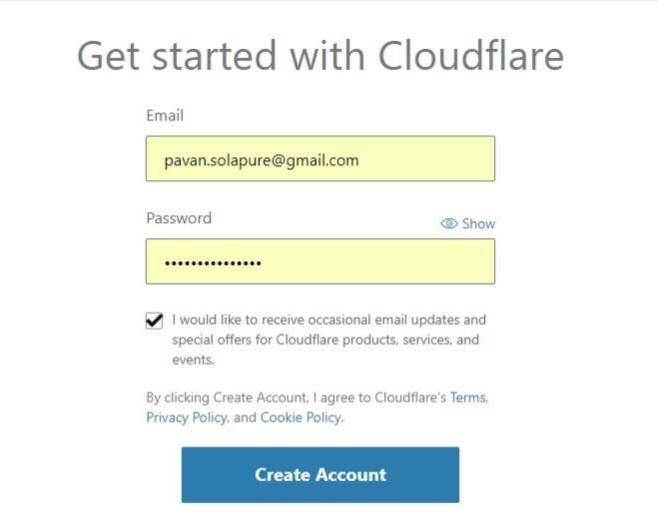 Add your Site
After you create your account, you need to add your site or domain name in Cloudflare. Once you add your site, Cloudflare will scan and collect data about your DNS and NameServers. It will provide you the nameservers to replace with your domain account.

You have to change the above nameservers in the account you have with your domain provider. Once you change the nameservers and recheck.
Don't worry, during the name server change period your site traffic won't get affected. Cloudflare will still resolve the address to your origin server.
After this, it will ask you to configure which DNS records need to be routed via Cloudflare.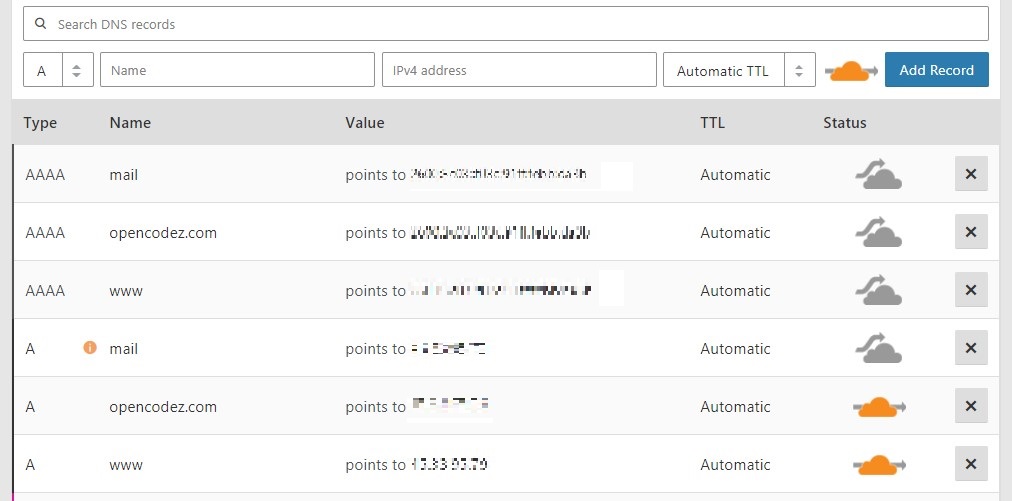 Grayed cloud means Cloudflare won't handle those request and it will be directly sent to your origin server or main server where the site is hosted. Orange cloud is handled by Cloudflare.
Account Configuration
In free tire also you get lots of option to manage your site on Cloudflare.

One most important thing you get here is the Free SSL certificate for your website. This would be a shared certificate across multiple other accounts, but no worries, it is as secure as any other paid certificate.
You can check your SSL communication here.

You can also decide if you want to communicate securely between Cloudflare and your Origin Site.
Read – Simple Step by Step Guide to Get Free SSL Certificate for your Website
That's it you are all set to use your Cloudflare CDN. From now on all the request are handled by Cloudflare. As Cloudflare is a pull cache, it will cache the request as and when users request data from your site. Next time if someone requests that same data, it will be served from cache.
Additional Benefits
In addition to the faster page loads, the Cloudflare provides you security to your domain and site. As your origin server is hidden behind Cloudflare, it is less susceptible to any kind of attacks.
Also, if at all your origin server is down for some reason, Cloudflare will still serve your users with the cached pages. This will give you time to make amends to your server and at the same time let your users browse data they need.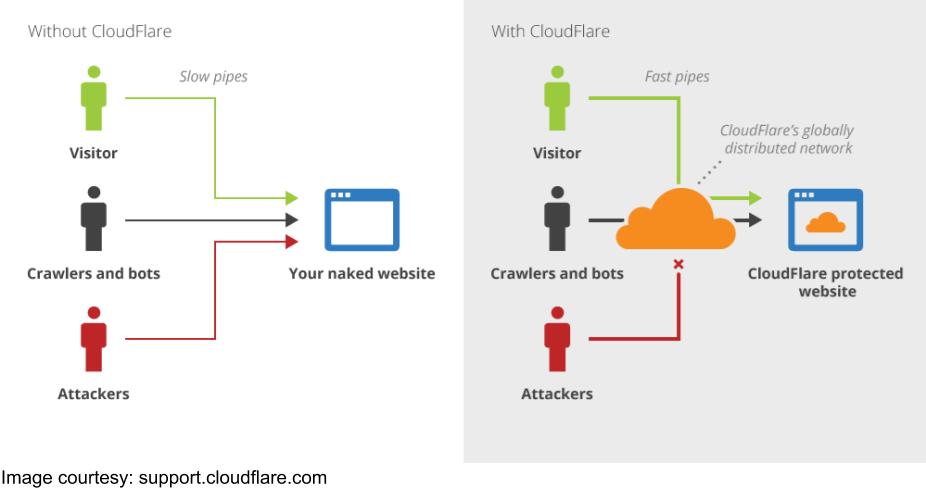 Pros
Very easy and intuitive setup process. Super WordPress friendly.
Provides an additional security layer for your site.
Great tool to Block any suspicious IPs
Free SSL
Speed Enhancement
Always Online
Cons
The free plan (which most of us opt for) provides limited stats on threats and traffic.
Sometimes Minify feature may break your contents, and you may have to work your way out of it.
The free plan offers only 3 custom page rules to fortify your site against any malicious attacks.
Conclusion
This article takes us through one of many ways to speed up your website. Please let us know your feedback in comments if you implement and find this information useful.
The Cloudflare solution is applicable to all kinds of website and not limited to only WordPress.
In my personal view, if you are seriously planning to secure your site using Cloudflare and harness its real power then you need to opt for their paid plan. The paid solution provides you a lot more than you can bargain for.
GodSpeed!!