How Can Artificial Intelligence and Machine Learning Impact The Healthcare Industry
The healthcare industry is rapidly evolving. The 2019 Global Healthcare Outlook analysis by Deloitte estimates that between 2017-2022, the global health care spending is expected to rise 5.4 percent annually to just over $10 trillion.
We have also witnessed massive technological advancement in providing better, faster and more accurate detection and diagnosis of diseases. Technologies like Wireless communications, remote sensing and monitoring devices, block chain, Artificial Intelligence and Machine Learning have disrupted the industry and benefited the patients and healthcare providers beyond imagination.
Here we will read how Artificial Intelligence and Machine learning impact the healthcare industry.
The influence of Artificial Intelligence in this industry is certainly life-changing. From hospital care to clinical research, drug development and insurance, AI applications are revolutionizing how the health sector works to reduce spending and improve patient outcomes. Let us look at some of the facts that call for implementation of AI: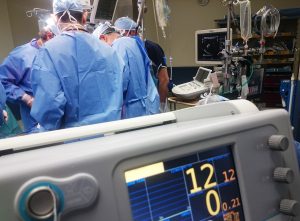 Hospital error is one of the leading causes of patients' death. Artificial Intelligence can help address and prevent these errors.
Nearly 440,000 Americans die each year due to medical errors. AI can easily prevent this.
In the healthcare industry, nearly 86% of the mistakes are preventable.
In addition, the various ways in which AI has increasingly become a part of the healthcare eco-system are:
Personal Health Virtual Assistant in keeping Healthy
Healthcare apps will act as a personal health assistant. Advanced AI algorithms power assistants like Cortana, Google Assistant, Siri when combined with healthcare apps will provide massive value to the users. We can use these to provide medication alerts, and human-like interactions will also be possible. AI as a personal assistant will also be able to assist patients when the clinical personnel are unavailable.
Early detection of Diseases
AI is already detecting diseases, such as cancer, more accurately and in their early stages. According to the American Cancer Society, a high proportion of mammograms yield false results, leading to 1 in 2 healthy women being told they have cancer. The use of AI is enabling review and translation of mammograms 30 times faster with 99% accuracy. This has considerably reduced the need for unnecessary biopsies.
Robot-assisted Surgery
AI-assisted robotic surgery has an estimated value of 40 billion dollars. Robotic surgeries are considered minimally invasive. They allow replacing large incisions with a series of quarter-inch incisions and utilize miniaturized surgical instruments. In a robotic procedure, the pre-op medical records are integrated with real-time operating metrics to improve the outcomes. This technique allows for better physician precision and can lead to a 21% reduction in the length of patient's post-operation hospital stay.
Administrative workflow Automation
The various care providers regularly spends a lot of their time doing paperwork and dealing with administrative tasks. NLP, a branch of Machine Learning, can assist them in the tedious and recurring tasks for example with the computer-assisted documentation. Solutions such as voice-to-text transcriptions can also save a lot of doctors' time to help order tests, prescribe medications or make notes.
Medical Imaging Analysis
Another important field in healthcare which is using AI is radiology. AI systems can help with diagnostic processes. It examines medical images like X-rays, CT scans, etc. and provide feedback on what it thinks a human eye can miss. This way the medical imaging analysis becomes significantly accurate and effective.
For example, the technology pioneers Google and IBM have massively affected healthcare with the use of AI. The IBM Watson has ability to pinpoint treatments for cancer patients. The Google Cloud's Healthcare app makes it easier for health organizations to collect, store, and access data.
Artificial Intelligence Risks and Challenges in Healthcare:
AI and Machine Learning are leaving a positive mark in the healthcare industry in several ways. It still has got its own risks and challenges.
Data security concerns- Today, patient related data is available in abundance. Thanks to the availability, usage and vogue of various electronic devices and wearables like fitbits and smartwatches. Yet AI is having a bumpy ride when it comes to dealing with data. People are afraid their medical records and personal details will be prone to misuse.
Widespread Adoption- One of the challenges AI faces in healthcare is widespread clinical adoption. Widespread clinical adoption  To realize the value of Artificial Intelligence, the healthcare industry needs to create a workforce that is knowledgeable about AI.  People who are comfortable using AI technologies will only enable the AI technologies to "learn" and grow smarter.
Conclusion:
The service and manufacturing sector of healthcare is benefiting by AI being introduced to multiply the abilities to serve the market efficiently. To enumerate, Accenture predicts that the top 10 AI applications may result in annual savings of $150 billion by 2026. A bar chart of AI applications in healthcare estimates of potential benefits by 2026 is shown below.
A lot of exciting, new and AI transformative applications are on its way to hit the healthcare industry positively. This indicates that the future of AI in health care has nowhere to go but up. We are having amazing technical breakthroughs in the healthcare area. With this in mind, who knows we can even expect Baymax (a Disney character healthcare providing nurse) very soon!