7 Best Practices for Video SEO to Drive More Traffic to Your Website
Most of the user just bounces off from your site if you don't have any fascinating contents, and this is where you can leverage the power of video. If you have some interesting videos to show off on your site, then there is no stopping for your traffic from spending time on your site. The more your user stops by the more you get credits from Google. To keep up with Google Search Updates and to retain the rank in search results you need to give some thought to Video SEO.
How you going to achieve Video SEO? We will see about same thing in this article. YouTube is one of the biggest search engines that's offer you video services and almost everyone on web is well aware on how to use YouTube.
You can refer following few points to target your niche audience and gain visibility in search engine.

1. Well Written Description for Video SEO
As far as I know, Google or YouTube has not incorporated the technology to watch or listen any video for ranking. So these giant search engines highly rely on the information that user is going to provide while uploading the video. So ultimately its you, who decides how your video should rank.
Now if you have uploading a tutorial or any strategy you have followed, don't just put one or two liner description. You need to provide description with relevant keywords. This will help YouTube to rank your video better and at the same time it gives viewer a better understanding of your video.
Optimize your video's description with relevant keywords and include a keyword-rich description of your video to allow search engines to index it and rank it higher, and for users to better understand your video before viewing.
One of the best description example you can find it here
2. Optimized Video Keywords
What are Video Keywords? There are the keywords to which generally a video is associated and it's available on first page of search results. Isn't it awesome, to get your video as first result?
e.g "funny dogs" If you search this keyword, Google knows that you are not searching any white paper on dogs but you are interested in a video that makes you laugh! This is a good example of video SEO.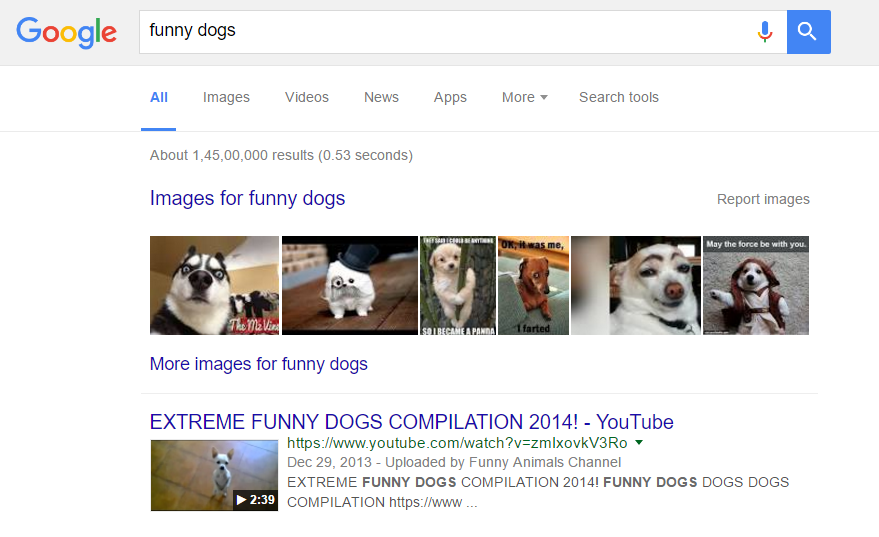 So if you are uploading a video and you have a focus keyword then use it cleverly in Video Title and Tags. Also target the keyword in your long decryption as discussed in above point.
3. Custom Thumbnails and Annotations
A catchy thumbnail will always result in more clicks and views. YouTube give you option to choose thumbnail image from your uploaded video. You need to choose the one which is more appropriate and attractive. This thumbnail is displayed where ever your video appears e.g. search engine results, third party websites and ads. So make sure it's clear and unique.
The overlay that can be placed over the YouTube video is called Annotations. While watching videos on YouTube you must have observed some overlays with text or image are being displayed intermittently or in one of the screen corner.
There overlays/annotations are great way to get engaged with your audience. You can provide some quiz, or subscription links that viewers can click on. The more your viewers are engaged with your video more you get ranking points in SERPs.
4. Subscription and Link Building is important for Video SEO
As mentioned above Annotations are great way to reach out to your niche audience. You can use annotations to get subscriptions and some quality link backs. If people are subscribing after watching your video this sends a strong signal to YouTube about your videos quality and trustworthiness. In return you get good ranking in YouTube system.
Some time it's not enough to just provide an overlay for subscription or likes. Some video authors follow a different approach. At the end of each video they ask people personally to subscribe and like their channel. This is very simple but effective way to engage viewers.
The personal touch at the end of every video is definitely push up your subscription rate. Go ahead and give it a try!
5. Channelize the User Experience
Now don't just go and upload videos to YouTube. Instead create a proper channel under your profile and upload videos to this channel. Update channels attributes in you the system. You can look for some of below points to achieve video seo
add a keyword rich Channel Description
add social links in About page
update channel art and logo
add some channel trailer for viewers
Make sure you follow the same principle and provide a keyword rich description.
6. Its time to Share
Okey! so far you have created YouTube profile and you have setup a unique channel and your channel is ready with some awesome videos. Now what next? Its time you promote your channel in all possible ways you can.
Reach out to your social network and share your channel. Many people feel why they should bother their friends and family with unwanted links on their content wall, but if you believe your contents are share worthy then go ahead and do it. Your work will be appreciated as people are getting relevant information right on their wall.
So don't hesitate and share in you Facebook, Linkedin, GooglePlus, Pinterest and any other social hangout you use.
7. Miscellaneous
Along with above points there are few more things that you need to look to rank better in search results. Such as
try to keep video length less than 5 mins, long videos may bore your precious audience
if you have multiple related videos, create a play list for better user experience
Use code embed settings for vides so others can also share it on their websites
After this article I believe you will be able to rank your videos better. Along with good video content it's equally important to get a powerful web hosting and SEO Ready Theme for you site.
I'm probably leaving out some information. What other tips can you provide about video SEO? Share your inputs in the comments.