After receiving fabulous response to earlier WordPress theme Openstrap, I have decided to come up with many more such themes. And to mark the start of brand new year I am releasing Free Premium WordPress Theme AADYA.
I am calling it Free Premium because the theme comes with premium looks and features for free. I have named it 'Aadya' as its name of my new born beautiful daughter. As usual the theme is developed using Twitter Bootstrap's Responsive CSS Framework. We will get a brief overview of the themes features in this section. Here is the preview of the theme, hope it inspires your to take a in depth look.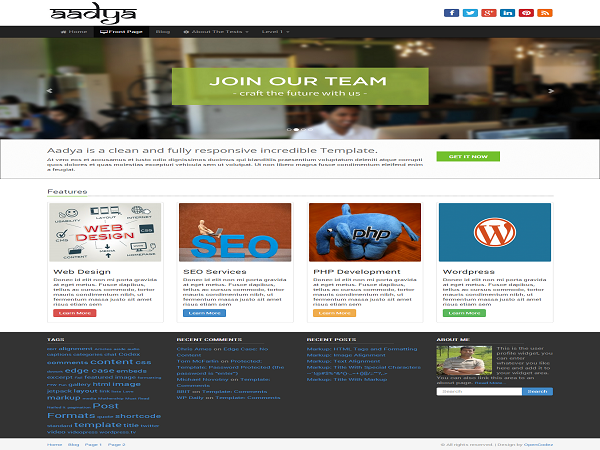 Premium Features
Its evident from above listed features that the theme is feature rich and comes with solid configuration management. SEO aware features and the Ready to use custom widget which comes along with the theme enables you to present your site with professional looks. The theme is ideal for any niches blog, corporate websites or personal hobby website.
Packaged Widget
We have already submitted the theme to WordPress official repository and it will be soon available to download from there as well. I would like you to encourage to try your hands on this theme and let me know your feedback. We will keep this page updated with recent developments of the theme. Also we have plans to update our site with couple of articles that will explain how to setup each area of the theme. So keep a watch.
Check how to setup a Front Page for your website
You can download and see the live demo using links below.